Work smarter, not harder.
Efficientizer's tailored workplace productivity software is the easiest way to manage large teams and track KPIs, productivity bottlenecks and more.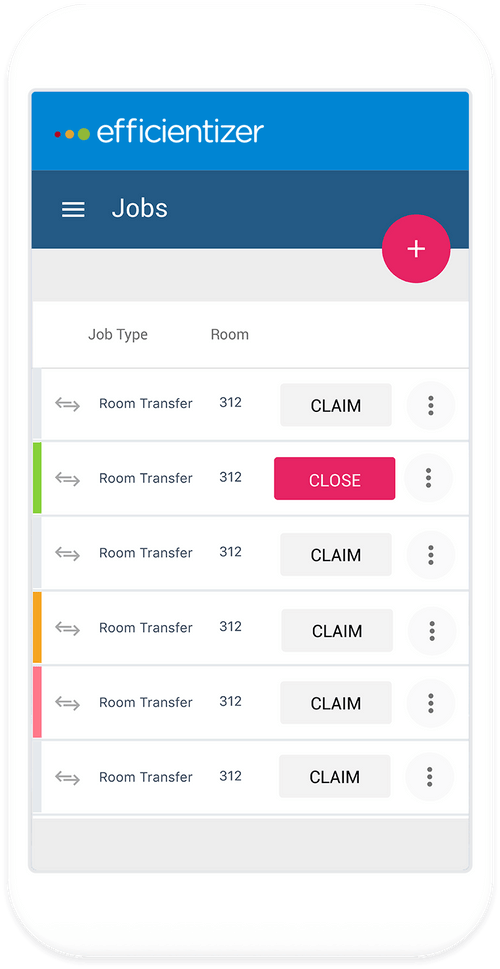 Efficientizer is a tailored workplace management tool that improves performance, efficiency and productivity in three simple steps.
See productivity like never before.
In real-time.
Ease staff complaints about cumbersome and complicated task management software. Efficientizer's simplicity is loved by managers and employees.
The simplest cloud-based job tracking system that enables you to track tasks and monitor staff productivity in your workplace, in real time.
Accessible as a web app and iOS app, Efficientizer offers a fully integrated approach to job tracking and workplace performance management across all levels of your organisation. Designed for use on desktop systems and touch-screen personal devices, it is a simple, user-friendly solutien for your whole team.

Don't take our word. Take theirs.
Dr. Harry Laughlin
MBBS
Efficientizer promises to help us all at multiple levels.
It utilises the ease of a cloud-based system to reduce delays in job allocation and uptake, with its unique "Create, Claim, Close" approach; no manager, no matter how good, can so easily assign staff their next task.
Suzan Jones
Nurse
Efficientizer will make contacting staff and job allocation easier, decrease in the number of phone calls which will improve staff performance both nursing and ancillary staff by having an unbiased direct request without interruption to workflow.
Rachael Wake
Midwife
On a ward level, all tasks allocated can be seen and nurses and doctors know immediately the time frame their tasks will be attended, reducing frustration and repeated phone calls. Tasks allocated cannot be lost due to human error.
Shape the future of Efficientizer.
We're looking to work with progressive organisations who want to take their efficiency to the next level by testing Efficientizer in the field. Trials are free and a lucrative opportunity to shape the future of workplace productivity.